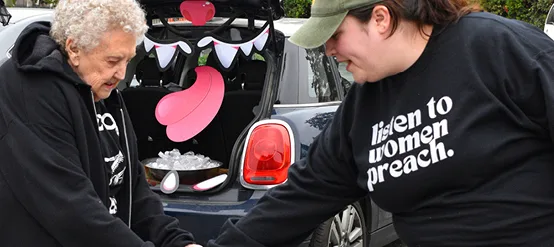 "Wherever two or more are gathered in my name," Jesus said, "I am in the midst of them." Jesus is all about people connecting with each other, so at St. John we're all about connecting, too. We have groups for women, for men, for kids and youth, for studying, for socializing. Young and old eat together on Wednesdays, sing together on Sundays, root for the Greenjackets together at SRP Park in the summer, ride bikes or walk together on the Canal and Greeneway.
We're Christ's brothers and sisters, brought together here in his name. That makes us family. And we try to be a family that stays connected.
Breaking bread together is an important part of being in a family, and we gather on Wednesday evenings for Wednesday night suppers. If you would like to attend a Wednesday night supper, please contact the church office to sign up. Children gather for choir at 5:30, and during this time adults may gather for fellowship, studies, or meetings. Supper is at 6:15, and our Adult chancel choir rehearsal is at 7:00 p.m. We would love to welcome you to break bread with us.